On February 23, the Church celebrates the Memorial of Saint Polycarp of Smyrna. St. Polycarp does not have an official patronage, but he is a great saint to seek intercession from in many circumstances. You can ask St. Polycarp to pray for you if you are facing persecution for your Faith, since he endured persecution for his Faith and was ultimately martyred. Or you can ask him to pray for someone you know who is suffering persecution for their Faith. St. Polycarp is also a great saint to seek intercession from on behalf of Church leaders, since he was a holy bishop who did a lot to combat heresy and to lead the Church well.
_________________________________________________________________________
In the name of the Father, and of the Son, and of the Holy Spirit. Amen
Come Holy Spirit, fill the hearts of your faithful and kindle in them the fire of your love.
Send forth your Spirit and they shall be created. And You shall renew the face of the earth.
O, God, who by the light of the Holy Spirit, did instruct the hearts of the faithful, grant that by the same Holy Spirit we may be truly wise and ever enjoy His consolations, Through Christ Our Lord, Amen.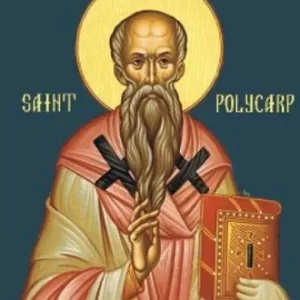 OPENING PRAYER
Great martyr, Saint Polycarp, make us steadfast witnesses to the truth in word and deed, just as you witnessed to the truth in your own life and death. Through your intercession, make our commitment to our religion of long duration, a life project, enduring until our life of faith concludes with a death of faith. As we devote ourselves to you in this period of nine days, hear the humble prayers we make before God and intercede for us in order that we become beneficiaries of the heavenly graces especially in this particular need(s) (state your intentions). Grant this, through Christ our Lord. Amen.
MEDITATION: EPISTLE TO THE PHILIPPIANS
(Polycarp wrote some epistles, among which are to the Philippians. We shall examine this epistle in the course of our meditation. The epistle resembles that of Saint Paul in style and content, a proof that he heard the preachings of the Apostles of Christ)
(CHAPTERS 13&14)
Chapter 13. Concerning the transmission of epistles
Both you and Ignatius wrote to me, that if anyone went [from this] into Syria, he should carry your letter with him; which request I will attend to if I find a fitting opportunity, either personally, or through some other acting for me, that your desire may be fulfilled. The Epistles of Ignatius written by him to us, and all the rest [of his Epistles] which we have by us, we have sent to you, as you requested. They are subjoined to this Epistle, and by them you may be greatly profited; for they treat of faith and patience, and all things that tend to edification in our Lord. Any more certain information you may have obtained respecting both Ignatius himself, and those that were with him, have the goodness to make known to us.
Chapter 14. Conclusion
These things I have written to you by Crescens, whom up to the present time I have recommended unto you, and do now recommend. For he has acted blamelessly among us, and I believe also among you. Moreover, you will hold his sister in esteem when she comes to you. Be safe in the Lord Jesus Christ. Grace be with you all. Amen.
—SILENT REFLECTION—
CONCLUDING PRAYER – DAY 8
O Lord Jesus Christ, the Son of the Living God, through the intercessions of Your Most-Holy Mother, and the entreaties of the Holy Hieromartyr Polycarp, soften the pains of our souls, take away our pains, and fulfill our desires, that we might newly behold the right hand of Your Saint, awesome in battle and gladsome to his friends. O saintly martyr, please bring my petitions before God Whom you served so faithfully!
—Pause and add your intentions—
St. Polycarp, you lived in a society that was hostile to the Christian Faith. You chose to convert to Christianity, knowing that you could be called to suffer and die for your Faith. When faced with martyrdom, you were given the choice to save your life by abandoning your Faith. You courageously held fast to your Faith to the point of torture and death. Pray for me, that I may always practice my Faith courageously. Pray that I may hold fast to my faith even to the point of death if necessary.
Our Father… Hail Mary… Glory be…
Saint Polycarp of Smyrna, pray for us!
Through the intercession of Saint Polycarp of Smyrna, may Almighty God bless you + the Father, and the Son, and the Holy Spirit. Amen.
Shalom!
Compiled by Fr. Chinaka Justin Mbaeri, OSJ
Paroquia Nossa Senhora da Immaculada Conceição, Paulo Ramos, Maranhão, Brazil
nozickcjoe@gmail.com / fadacjay@gmail.com
___________________________________

PS: Have you prayed your Rosary today?