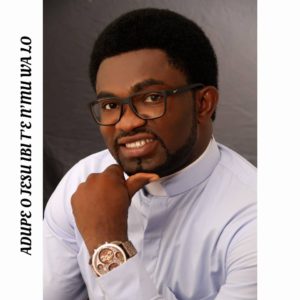 Chinaka Justin Mbaeri, a Roman Catholic Priest (of the Congregation of the Oblates of Saint Joseph), hails from Orlu, Imo State, Nigeria. A staunch Catholic and an apologist of the Christian faith who draws inspiration from his Patron Saint, Justin (a martyr and an apologist of the early Church). Chinaka takes delight in studying and inquiring more about his faith and passing on to others, drawing inspiration from the book of Daniel 12:3 "The learned will shine as brightly as the vault of heaven, and those who have instructed many in virtue will shine like stars for all eternity."
He studied Philosophy in the Major Seminary of SS Peter and Paul, Ibadan between October 2008 and June 2012 in affiliation with the prestigious University of Ibadan, Nigeria, where he obtained his Bachelor Degree. He also had his Theological Degree from the University: ITESP, São Paulo, Brazil, in 2017. He was ordained a Roman Catholic Priest in Lagos, Nigeria, on the 17th of March, 2018, in the Congregation of the Oblates of Saint Joseph (OSJ). Currently, he works as a missionary in São Paulo, Brazil.
Sequel to his desire to impart what he has learnt in the life of others, he opened a Catholic group on Facebook (Catholic Doctrines) in 2011, which functions till date with the aim of clarifying and explaining the true and ideal Christian faith (Catholicism). To the glory of God, many persons have testified to the good work, while some members of the group requested he publishes a hard copy of the Catholic Doctrines taught on social media. As a result, he was inspired to open a blog where he can easily coagulate all his works for future use. From this blog, he also shares all his daily reflections to WhatsApp groups and individuals.
Therefore, this blog is aimed basically to teach, enlighten, defend and spread the Catholic Faith. It will also serve as a reference and a guide to those seeking clarification about the practices and values of the Catholic Church; as St. Peter encourages: "be ready at all times to answer anyone who asks you to explain the hope you have in you, but do this with gentleness and respect" (1Pet. 3:15). I hereby invite you all to be adherents of this noble injunction in and out of season by frequently visiting my blog and also my YouTube Channel (Fr. Chinaka's Reflections) to stay equipped on the Catholic Faith.
Shalom!
© Fr. Chinaka Justin Mbaeri, OSJ
Paroquia Nossa Senhora de Fatima, Vila Sabrina, São Paulo, Brazil
nozickcjoe@gmail.com / fadacjay@gmail.com