In the Name of the Father, and of the Son, and of the Holy Spirit. Amen.
Opening hymn
Immaculate Mary
Our hearts are on fire
That title so wonderous
Fills all our desires
Ave, Ave, Ave Maria
Ave, Ave, Ave Maria
Opening Prayer: Day 1
O Immaculate Virgin, Mother of God, and my mother, from the sublime heights of your dignity turn your merciful eyes upon me while I, full of confidence in your bounty and keeping in mind your Immaculate conception and fully conscious of your power, beg of you to come to our aid and ask your Divine Son to grant the favour we earnestly seek in this novena, especially for vocations to the marital life, Priesthood, and religious life… if it be beneficial for our immortal souls and the souls for whom we pray. (Also, state your private intention here…) O Mary of the Immaculate Conception, Mother of Christ, you had influence with your Divine Son while upon this earth; you have the same influence now in heaven. Pray for us and obtain for us from him the granting of my petition if it be the Divine Will. Amen.

PRAY THE 20 DECADES OF THE HOLY ROSARY
At the end of the 20 decades, say the following Prayers:
Hail Holy Queen
Hail, holy Queen, mother of mercy, our life, our sweetness, and our hope. To thee do we cry, poor banished children of Eve. To thee do we send up our sighs mourning and weeping in this valley of tears. Turn then, most gracious advocate, thine eyes of mercy toward us, and after this our exile show us the blessed fruit of thy womb, Jesus. O clement, O loving, O sweet Virgin Mary!
Pray for us, O Holy Mother of God, that we may be made worthy of the promises of Christ.
Let us pray
O God, whose only begotten Son, by His life, death, and resurrection, has purchased for us the rewards of eternal salvation. Grant, we beseech Thee, that while meditating on these mysteries of the most Holy Rosary of the Blessed Virgin Mary, we may imitate what they contain and obtain what they promise, through Christ our Lord. Amen.
Most Sacred Heart of Jesus, have mercy on us! Immaculate Heart of Mary, pray for us! St. Joseph, pray for us!
Litany of Loreto
Lord have mercy.
Christ have mercy.
Lord have mercy.
Christ hear us.
Christ graciously hear us.
God, the Father of heaven,
have mercy on us (Repeat after each invocation)
God the Son, Redeemer of the world,
God the Holy Spirit,
Holy Trinity, one God,
Holy Mary,
pray for us (Repeat after each invocation)
Holy Mother of God,
Holy Virgin of virgins,
Mother of Christ,
Mother of the Church,
Mother of Mercy,
Mother of divine grace,
Mother of Hope,
Mother most pure,
Mother most chaste,
Mother inviolate,
Mother undefiled,
Mother most amiable,
Mother most admirable,
Mother of good counsel,
Mother of our Creator,
Mother of our Saviour,
Virgin most prudent,
Virgin most venerable,
Virgin most renowned,
Virgin most powerful,
Virgin most merciful,
Virgin most faithful,
Mirror of justice,
Seat of wisdom,
Cause of our joy,
Spiritual vessel,
Vessel of honour,
Singular vessel of devotion,
Mystical rose,
Tower of David,
Tower of ivory,
House of gold,
Ark of the covenant,
Gate of heaven,
Morning star,
Health of the sick,
Refuge of sinners,
Solace of Migrants,
Comfort of the afflicted,
Help of Christians,
Queen of Angels,
Queen of Patriarchs,
Queen of Prophets,
Queen of Apostles,
Queen of Martyrs,
Queen of Confessors,
Queen of Virgins,
Queen of all Saints,
Queen conceived without original sin,
Queen assumed into heaven,
Queen of the most Holy Rosary,
Queen of families,
Queen of peace.
Lamb of God, who takes away the sins of the world,
spare us, O Lord.
Lamb of God, who takes away the sins of the world,
graciously hear us, O Lord.
Lamb of God, who takes away the sins of the world,
have mercy on us.
Pray for us, O holy Mother of God.
That we may be made worthy of the promises of Christ.
Let us pray
Grant, we beseech thee, O Lord God, that we, your servants, may enjoy perpetual health of mind and body;
and by the glorious intercession of the Blessed Mary, ever Virgin, may be delivered from present sorrow, and obtain eternal joy. Through Christ our Lord. Amen.
Memorare
Remember, O most gracious Virgin Mary, that never was it known that anyone who fled to thy protection, implored thy help, or sought thine intercession was left unaided. Inspired by this confidence, I fly unto thee, O Virgin of virgins, my mother; to thee do I come, before thee I stand, sinful and sorrowful. O Mother of the Word Incarnate, despise not my petitions, but in thy mercy hear and answer me.
Prayer to Saint Joseph after the Rosary
To you, O Blessed Joseph, we come in our trials, and having asked the help of your most holy spouse, we confidently ask your patronage also. Through that sacred bond of charity which united you to the Immaculate Virgin Mother of God and through the fatherly love with which you embraced the Child Jesus, we humbly beg you to look graciously upon the beloved inheritance which Jesus Christ purchased by his blood, and to aid us in our necessities with your power and strength.
O most provident guardian of the Holy Family, defend the chosen children of Jesus Christ. Most beloved father, dispel the evil of falsehood and sin. Our most mighty protector, graciously assist us from heaven in our struggle with the powers of darkness. And just as you once saved the Child Jesus from mortal danger, so now defend God's Holy Church from the snares of her enemies and from all adversity. Shield each one of us by your constant protection, so that, supported by your example and your help, we may be able to live a virtuous life, die a holy death, and obtain eternal happiness in heaven. Amen.
Prayer to Saint Michael the Archangel
St. Michael the Archangel, defend us in battle, be our protection against the wickedness and snares of the devil. May God rebuke him we humbly pray; and do thou, O Prince of the Heavenly host, by the power of God, cast into hell Satan and all the evil spirits who prowl about the world seeking the ruin of souls. Amen.
DAY 1 REFLECTION: "ON THE DOGMA OF THE IMMACULATE CONCEPTION" – PART 1
Many a time, we (Catholics) often invoke the Blessed Virgin Mary as "O Mary conceived without sin, pray for us who have recourse to thee." While it is a prayer, it is also an expression of faith and belief in our Lady's Immaculate Conception. Our Lady's Immaculate Conception is said to be one of her dogmas. It is necessary to recall the four dogmas that refer to Mary: 1. Perpetual Virginity; 2. Divine Motherhood; 3. Immaculate Conception; 4. Assumption into Heaven. The first two dogmas are defined in the Bible and recognized by the Church Tradition throughout the first millennium. The latter two are recent definitions of the Church, also having their roots in both Scripture and  Tradition as well. Interestingly, none of these dogmas is concerned with defining Mary's identity or merits. All Marian dogmas, in fact, are Christological, that is, they defend the nature of Jesus Christ as the Incarnate Word, truly human and divine. Therefore, the Immaculate Conception of the Blessed Virgin Mary is more of our Lord Jesus Christ and less of the Blessed Virgin Mary.
Having said this, what does the dogma of the "Immaculate Conception" entail? Or what does it mean to invoke our lady as "Queen Conceived without Original Sin?" Here, we simply mean that Mary, whose conception was brought about the normal way, was conceived without original sin or its stain. Thus, by affirming that Mary was conceived without Original sin, it follows then, that she did not commit any sin during her lifetime on earth. However, how can we understand this reality in the light of the Pauline "All have sinned, and fallen short of the glory of God?" (Rm. 3:23).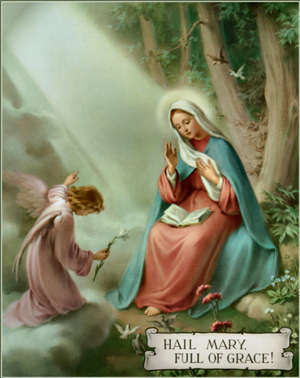 To begin with, the Church affirms Mary's immaculateness from the truths of Sacred Scripture and Tradition. Beginning with the Scriptures, we see that the traditional translation, "full of grace," (kecharitomene) is interpreted in a different way in many recent versions of the New Testament, which give something along the lines of "highly favoured daughter." Since the New Testament was originally written in Greek, the expression of the angel in Greek, "kecharitomene" never mentions the word for "daughter", it simply means "full of grace." Nevertheless, even if we go by the translation of the recent versions of today's bibles, we can still see that Mary is indeed a highly favoured daughter of God, and the question is: "how can one who is highly favoured by God be exposed to the corruption of original sin?" indeed, the highly favoured one must be an exception to the phrase: "for all have sinned and fallen short of God's grace…" (Rom. 3:23).
Therefore, the grace given to Mary is at once permanent and of a unique kind. As explained earlier in one of my posts on my blog, the Greek, 'kecharitomene' is a perfect
passive participle of 'charitoo,' meaning "to fill or endow with grace." Since this term is in the 'perfect tense,' it indicates that Mary was graced in the past and with continuing effects in the present. So, the grace Mary enjoyed was not a result of the angel's visit. In fact, the Church holds, it extended over the whole of her life, from conception onward. She was in a state of sanctifying grace from the first moment of her existence because she has been chosen even before she was born. Little wonder she says in her 'Magnificat: "My spirit rejoices in God my Saviour… the Almighty has done 'great' things for me…" (Luke 1:47ff) The Catechism of the Catholic Church states that she was "redeemed in a more exalted fashion, by reason of the merits of her Son" (CCC #492). She has more reason to call God her Saviour than we do because He saved her in an even more glorious manner. (TO BE CONTINUED…)
…PAUSE AND MEDITATE FOR A MOMENT…
Concluding Prayer
O God, who by the Immaculate Conception of the Blessed Virgin Mary, did prepare a worthy dwelling place for Your Son, we beseech You that, as by the foreseen death of this, Your Son, You did preserve Her from all stain, so too, You would permit us, purified through Her intercession, to come unto You.
Immaculate Virgin Mary, you were pleasing in the sight of God from the first moment of your conception in the womb of your mother, St. Anne. You were chosen to be the mother of Jesus Christ, the Son of God. I believe the teaching of Holy Mother Church, that in the first instant of your conception, by the singular grace and privilege of Almighty God, in virtue of the merits of Jesus Christ, Saviour of the human race and beloved Son, you were preserved from all stain of original sin. I thank God for this wonderful privilege and grace He bestowed upon you as I honour your Immaculate Conception. Virgin Immaculate, Mother of God and my Mother, from your throne in heaven turn your eyes of pity upon me. Filled with confidence in your goodness and power, I beg you to help me in this journey of life which is so full of dangers for my soul. I entrust myself entirely to you, that I may never be the slave of the devil through sin, but may always live a humble and pure life. I consecrate myself to you forever, for my only desire is to love your divine Son Jesus. Mary, since none of your devout servants has perished, May I too be saved. Amen.
Blessing: Through the intercession of the Blessed Virgin Mary – the Immaculate Conception, may the Lord bless us + protect us from all evil and bring us to everlasting life. Amen.
Final Anthem to the Immaculate Conception
Immaculate Heart! we kneel
To consecrate all to thee:
The present, its pain and joy
The future, all it may be.
Refrain:
O Lady of Fatima, hail!
Immaculate Mother of grace;
O, pray for us, help us today,
Thou hope of the human race!
Shalom!
Compiled by Fr. Chinaka Justin Mbaeri, OSJ
Paroquia Nossa Senhora de Loreto, Vila Medeiros, São Paulo, Brazil
nozickcjoe@gmail.com / fadacjay@gmail.com
___________________________________
PS: Have you prayed your Rosary today?