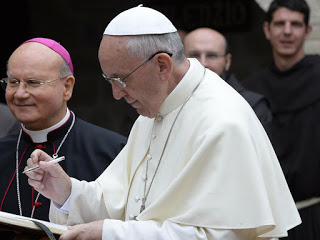 "THE INTERNET IS A GIFT FROM GOD" – POPE FRANCIS
In a message on Catholic
Church communications, the pontiff wrote of the pros and cons of the digital
age, and its implications for Catholics when interacting with people from
different faiths and backgrounds. While praising the internet for the "immense
possibilities" it offers to encounter people from different backgrounds, he
also warned that the obsessive desire to stay connected can actually isolate
people from their friends and family.
"This is something truly
good, a gift from God," he wrote. But he warned: "The desire for digital
connectivity can have the effect of isolating us from our neighbours, from
those closest to us." For him, communications in the digital era had the
potential to be like "a balm which relieves pain and a fine wine which gladdens
hearts.
Quoting Pope Pius XII's
1957 encyclical letter
Miranda Prorsus
, the
Pastoral Instruction on the Means of Social Communication
Communio et Progressio
,
published in 1971, the Holy Father emphasized that "The Church sees these media
as 'gifts of God' which, in accordance with his providential design, unite men
in brotherhood and so help them to cooperate with his plan for their salvation". This remains our view, and it is the
view we take of the Internet.
The Church has a
two-fold aim in regard to the media. One aspect is to encourage their right
development and right use for the sake of human development, justice, and
peace—for the upbuilding of society at the local, national, and community
levels in light of the common good and in a spirit of solidarity. Considering
the great importance of social communications, the Church seeks "honest and
respectful dialogue with those responsible for the communications media"—a
dialogue that relates primarily to the shaping of media policy. "On the
Church's side this dialogue involves efforts to understand the media—their
purposes, procedures, forms and genres, internal structures and modalities—and
to offer support and encouragement to those involved in media work. On the
basis of this sympathetic understanding and support, it becomes possible to
offer meaningful proposals for removing obstacles to human progress and the
proclamation of the Gospel".
Personally speaking, the internet has been a helpful tool in reaching out to Christians and non-Christians alike, making the work of evangelization easier by disseminating the message of the Good News and proffering apologetical explanations and reflections on the Catholic Faith and Practices; and many persons have attested to this good work.
May the good Lord grant us the grace to make good use of the internet as his gift to our contemporary society. Amen.