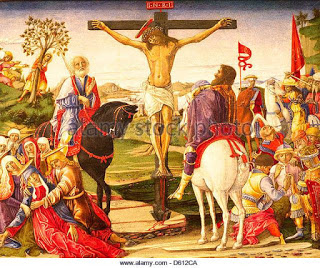 THE GREAT EVENTS IN THE CATHOLIC CHURCH:
EASTER TRIDUUM – PART 2: GOOD FRIDAY
WHAT IS SO GOOD ABOUT "GOOD FRIDAY" SINCE THE SON OF GOD SUFFERED CRUCIFIXION AND DEATH ON THE CROSS ON THIS DAY?
Dear friends, after celebrating Holy Thursday yesterday in which we recalled the Lord's Supper (Holy Eucharist) with his Apostles, Washing of feet, His agony in the Garden of Gethsemane and his betrayal and arrest by his Apostle Judas Iscariot. As a follow-up, we celebrate today (Good Friday), remembering how Jesus Christ was given up to death, a death he freely accepted; in fact, a shameful death by crucifixion as the ultimate sacrifice for our sins (1 John 1:10).
Now, since it is the case that Jesus Christ suffered and died a shameful death by crucifixion on the cross, why do we term it "good"? Why not "Dark Friday" or "Bad Friday", or any negative concept we could term it?
Although in Portuguese, we have a similar expression: "Sexta-Feira Santa" (i.e. Holy Friday); in English, however, the origin of the term "Good" is debated: some believe it developed from an older name, "God's Friday." Regardless of the origin, the name Good Friday is entirely appropriate because, the suffering and death of Jesus, as terrible as it was, marked the dramatic culmination of God's plan to save his people from their sins. Paradoxically, the day that seemed to be the greatest triumph of evil was actually the deathblow in God's glorious plan to redeem the world from bondage.
The cross is where we see the convergence of great suffering and God's forgiveness. Psalms 85:10 sings of a day when "justice and peace" will "embrace each other." The cross of Jesus is where that occurred; where God's demands (His justice), coincided with his mercy. We receive divine forgiveness, mercy, and peace because Jesus willingly took our divine punishment, the result of God's justice against sin. In other words, God tampered his justice with mercy.
For Christians, Good Friday is a crucial day of the year because it celebrates what we believe to be the most momentous weekend in the history of the world. Ever since Jesus died and was raised, Christians have proclaimed the cross and resurrection of Jesus to be the decisive turning point for all creation. Paul considered it to be "of first importance" that Jesus died for our sins, was buried, and was raised to life on the third day, all in accordance with what God had promised all along in the Scriptures (1 Corinthians 15:3).
Above all, Good Friday is good/holy because it marks the day when mercy and faithfulness met at the cross; a day when the Lord favoured his land (the earth), and revived the fortunes of those who believe in Him; a day in which He forgave the guilt of His people and covered all their sins; a day which God averted His rage and calmed the heat of His anger through the dying words of Christ: forgive them Father, for they do not know what they are doing (Lk. 23:34).
"WE ADORE YOU O CHRIST AND WE PRAISE YOU; BECAUSE BY YOUR HOLY CROSS YOU HAVE REDEEMED THE WORLD"
"…And I love that old Cross
where the dearest and best
For a world of lost sinners was slain
So I'll cherish the old rugged Cross
Till my trophies, at last, I lay down
I will cling to the old rugged Cross
And exchange it some day for a crown"
WATCH OUT FOR PART 3: HOLY SATURDAY