SOLEMNITY OF THE SACRED
HEART OF JESUS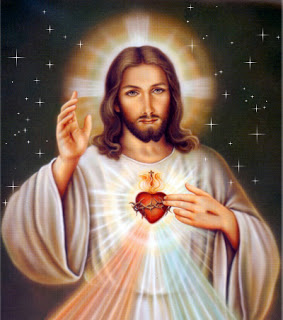 The
heart of man is often depicted with a figure of "love". Going beyond the
literal view, it depicts how a good heart should be; a heart engulfed in love. Many
a times we come to know the attitudes of persons when they speak and show forth
their actions. ("..For out of the abundance of the heart, the mouth speaks.."
Mtt. 12:34)
This heart of flesh is known as the emblem of the emotion and
moral
life with which we associate it. Note, for instance,
the expressions "to open one's heart", "to give one's
heart", etc.
Today, we celebrate the Sacred Heart of Jesus, the font of
love, the wellspring of Mercy. Therefore, being the emblem of
love
, the devotion to
the Sacred Heart of Jesus is
naturally defined. Now, was it not for the motive of love for humanity that Christ suffered & died? Was not all His
inner, even more than His outward, life dominated by this
love
? Put
differently, this is the heart that loved us, suffered for us, passed
through death, a heart that was pierced with a lance, of which flowed "blood
and water"
Today, as in commemoration, we therefore make reparations to
this Sacred Heart that loved and suffered so much for us; for the wounds it
endured, the sufferings etc…
The Sacred Heart is often depicted
in
Christian art
as a flaming heart shining with
divine light, pierced by the lance-wound, encircled by the
crown of thorns
, surmounted by a cross, and
bleeding. Sometimes the image is shown shining within the bosom of Christ with
his wounded hands pointing at the heart. The wounds and crown of thorns allude
to the manner of
Jesus' death
, while
the fire represents the transformative power of divine love.
Above all, Christ said: "Come
to me, all you who are weary and over-burdened, and I will give you rest. Shoulder
my yoke and learn from me; for I am gentle and humble in heart, and you will
find rest for your souls. For my yoke is easy and my burden is light. (Mtt.
11:28-30)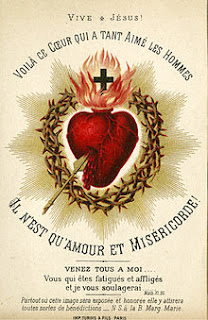 O Sacred heart of Jesus, may our
hearts be restless, unless they rest in you… Amen!