The last of the seven Great "O" Antiphons for the second part of Advent which the Church addresses to Christ at Mass and at Vespers today goes thus: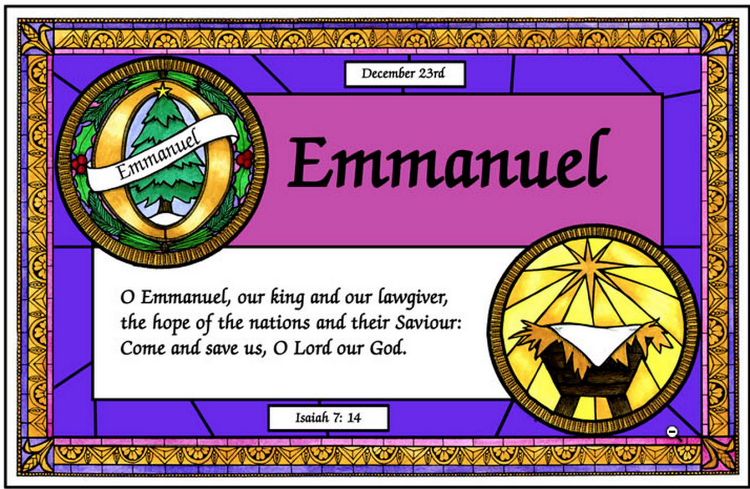 "O Emmanuel, our king and our lawgiver, the hope of the nations and their Saviour: Come and save us, O Lord our God."
Dear friends in Christ, the title: "O Emmanuel" is identified with the "Son" prophesied by Isaiah to King Ahaz of Jerusalem: "Therefore the Lord himself shall give you a sign. Behold a virgin shall conceive, and bear a son, and his name shall be called Emmanuel." (Isaiah 7:14). And in Isaiah 8:8, we read: "And the stretching out of his wings shall fill the breadth of thy land, O Emmanuel." Thus, Matthew, when telling the story of Joseph, Mary's husband, sees in Jesus' birth the fulfilment of Isaiah's prophecy (see Mt: 1:23).
It is interesting to note that this title ("O Emmanuel") is a continuation/completion of the previous day's title ("O King"). This is so because, in today's title, we see the phrase "our King" and "Lawgiver", "Hope and Saviour of the nations" (cf. Gen 49:10) together with the petition: "Come and save us, O Lord our God" (see Isaiah 33:22). This mirrors the reality that Christ is our Lord and lawgiver (judge), the king that will save us." This is exactly the essence of Christmas – The birth of the One who is to save us – without his salvific mission, his birth would have no meaning.
Therefore, as we celebrate Christmas soon, let these noble supplications to Christ (the great "O" antiphons) be ever on our lips and in our hearts, in order that we might live accordingly with the sentiment of the season, for Christ is the reason for the season. May our hearts not grow coarse with debauchery, material worries for Christmas, malice, pride, selfishness, etc., but be ever mindful of the presence of God in our world (Emmanuel) and the salvation He has wrought for us; so that when He returns again in glory as King to judge the living and the dead, He would lead us safely into the Kingdom we hope for and reign with Him forever.
Shalom!
© Fr. Chinaka Justin Mbaeri, OSJ
Paroquia Nossa Senhora de Fatima, Vila Sabrina, São Paulo, Brazil
nozickcjoe@gmail.com / fadacjay@gmail.com
___________________________________
PS: Have you prayed your Rosary today?