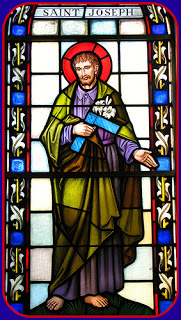 A PRAYER TO ST. JOSEPH
O blessed Joseph, faithful
guardian of my Redeemer, Jesus Christ, protector of thy chaste spouse, the
virgin Mother of God, I choose thee this day to be my special patron and
advocate and I firmly resolve to honour thee all the days of my life. Therefore
I humbly beseech thee to receive me as thy client, to instruct me in every
doubt, to comfort me in every affliction, to obtain for me and for all the
knowledge and love of the Heart of Jesus, and finally to defend and protect me
at the hour of my death. Amen
ST. JOSEPH'S ROSARY
(This prayer is to be said throughout the period of Novena to St. Joseph)
The rosary may be prayed
just as Marian rosary, substituting the following prayer for the "Hail Mary":
Joseph,
son of David, and husband of Mary; we honor you, guardian of the Redeemer, and
we adore the child you named Jesus.
Saint Joseph,
patron of the universal church, pray for us, that like you we may live totally
dedicated to the interests of the Savior. Amen.
Mysteries of the Rosary of
St. Joseph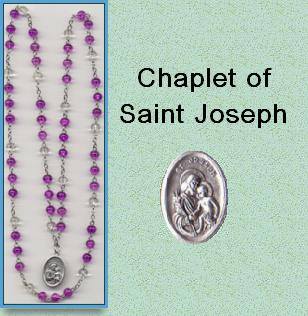 1. Betrothal to Mary (Mt
1:18).
2. Annunciation to Joseph (Mt1:19-21).
3. Birth and Naming of Jesus (Mt1:22-25).
4. Flight into Egypt (Mt 2:13-15).
5. Hidden Life at Nazareth
(Mt 2:23; Lk2:51-52).
Ever-Courageous Joseph,
pray for us to always imitate your life of courage and service in total
submission to the will of God.