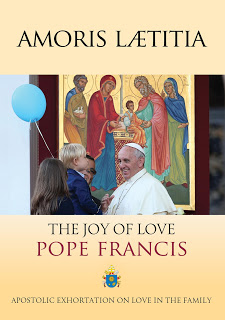 JUST "A WORD" ON "AMORIS LAETITIA":
Amoris Laetitia (the joy of Love) addresses the key topics about marriage and family life from the 2014 and 2015 synods while providing opportunities for readers to reflect on GOD'S MERCY in relation. Put differently, it is a serious and extensive reflection on Christian marriage. While it changes no Church teaching or discipline, it does stress the importance of pastoral sensitivity in dealing with the difficult situations many married couples today face.

I urge those who are yet to read this Post-Synodal Apostolic Exhortation of Pope Francis: "AMORIS LAETITA", to kindly get a copy and read meticulously. It does more good than sitting down and listening to false interpretations and commentaries from the media.