In the name of the Father, and of the Son, and of the Holy Spirit. Amen
ACT OF CONTRITION
Oh my God, I am heartily sorry for having offended you. I detest all my sins because I dread the loss of Heaven and the pains of Hell, but most of all, because they offend you, my God, who are all good and deserving of all my love. I firmly resolve, with the help of your grace, to confess my sins, to do penance, and to amend my life. Amen.
FOR WORKERS
(Pope St. Piux X: Prayer to St. Joseph for Success in Work)
Glorious St. Joseph, model of all those who are devoted to labour, obtain for me the grace to work conscientiously, putting the call of duty above my many sins; to work with thankfulness and joy, considering it an honour to employ and develop, by means of labour, the gifts received from God; to work with order, peace, prudence and patience, never surrendering to weariness or difficulties; to work, above all, with purity of intention, and with detachment from self, having always death before my eyes and the account which I must render of time lost, of talents wasted, of good omitted, of vain complacency in success so fatal to the work of God. All for Jesus, all for Mary, all after thy example, O Patriarch Joseph. Such shall be my motto in life and death. Amen.
MEDITATION: DAY 2
Genesis 2:15
Yahweh God took the man and settled him in the garden of Eden to cultivate and take care of it.
The word of the Lord…
(Silent Reflection & Personal Prayer)
(Powerful prayer to gain employment through the intercession of St. Joseph)
Saint Joseph, father and protector of Jesus Christ, spouse of the Blessed Virgin Mary the Mother of God, powerful protector of the Holy Church, to you do I raise my heart and hands to implore your powerful intercession. You searched nothing else in this world but the glory of God and the good of others. You gave yourself completely to the Saviour, it was cause for joy to pray, to work, to sacrifice yourself, to suffer, to die for him. You were unknown in this world even though Jesus knew you very well, he would look at your simple and hidden life with complacency. Saint Joseph, you have helped so many people so far I come to you with great trust. In the light of God you can see what misses me, you know my worries, my difficulties, my sorrow. I commend to your fatherly solicitude this specific task…
(add your request)
. I am placing it in your hands that saved child-Jesus. Ask for the grace to never separate me from Jesus by the mortal sin, to know him and love him even more and his blessed Mother, to always live in the presence of God, to do anything for his glory and the good of other souls, and one day to reach the beatific vision of God to praise him eternally with you. Amen.
OUR FATHER… HAILY MARY….X3 GLORY BE….
As you embark on a family vacation or other travels, invoke the powerful intercession of St. Christopher, patron of travelers.
St. Christopher is well known as the patron saint of travelers. This is due in large part to a medieval legend in which the saint carries the Christ Child over a river. If he was given the care of the baby Jesus during his travels, wouldn't he be a perfect patron for our own adventures?
Here is a popular prayer to St. Christopher that invokes his intercession during our travels. Whether you are traveling on your own or with your family, pray to God through the intercession of St. Christopher. Many have attributed their safety to this fascinating saint and are at peace when they know he is with them.
POWERFUL PRAYER TO SAINT CHRISTOPHER FOR SAFE TRAVELS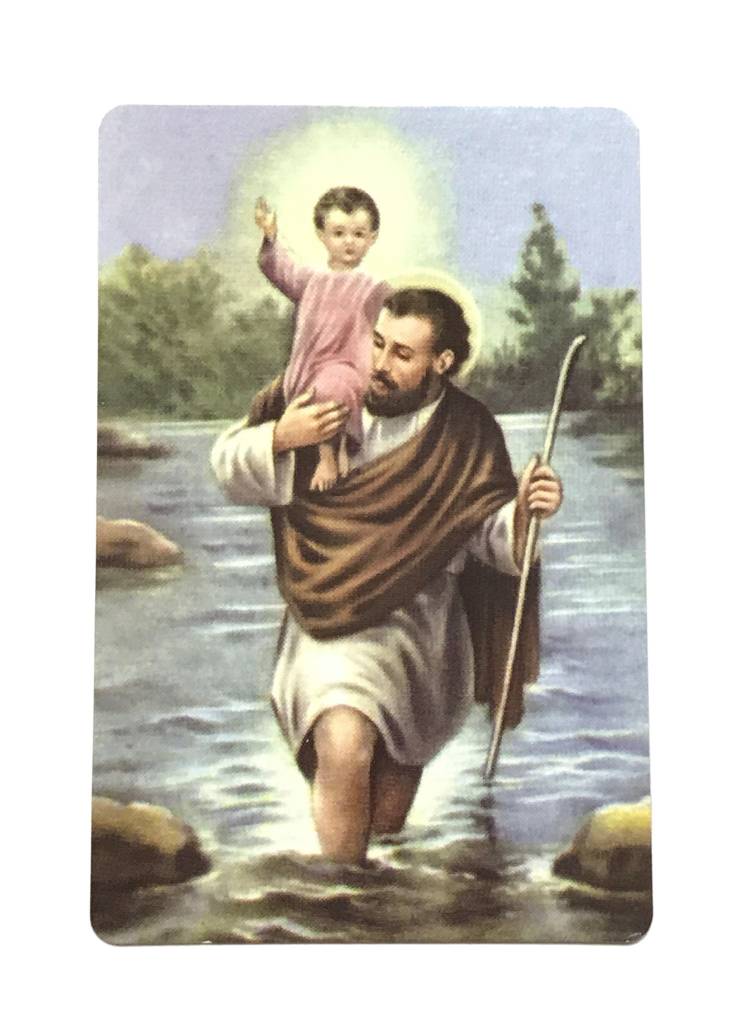 Dear Saint Christopher, you have inherited a beautiful name, Christ-bearer, as a result of the wonderful legend
that while carrying people across a raging stream you also carried the Child Jesus.
Teach us to be true Christ-bearers to those who do not know Him.
Protect all of us that travel both near and far and petition Jesus to be with us always.
Give your warning sign if danger is near so that I may stop while the path is clear.
Be at my window and direct me through when the vision blurs from out of the blue.
Carry me safely to my destined place, like you carried Christ in your close embrace. Amen
St. Christopher, pray for us, and all those who invoke thy aid!
CONCLUDING PRAYER
To you, O Blessed Joseph
, we come in our trials, and having asked the help of your most holy Spouse, we confidently ask your patronage also. Through that sacred bond of charity which united you to the Immaculate Virgin Mother of God and through the fatherly love with which you embraced the Child Jesus, we humbly beg you to look graciously upon the beloved inheritance which Jesus Christ purchased by his blood, and to aid us in our necessities with your power and strength.
O most provident guardian of the Holy Family, defend the chosen children of Jesus Christ. Most beloved father, dispel the evil of falsehood and sin. Our most mighty protector, graciously assist us from heaven in our struggle with the powers of darkness. And just as you once saved the Child Jesus from mortal danger, so now defend God's Holy Church from the snares of her enemies and from all adversity. Shield each one of us by your constant protection, so that, supported by your example and your help, we may be able to live a virtuous life, to die a holy death, and to obtain eternal happiness in heaven. Amen.
Saint Joseph answers Prayers!
If Saint Joseph does not grant graces, he would not be Saint Joseph!!
____________________________________________________
Shalom!
Compiled by Fr. Chinaka Justin Mbaeri, OSJ
Paroquia Nossa Senhora de Loreto, Vila Medeiros, São Paulo, Brazil
nozickcjoe@gmail.com / fadacjay@gmail.com
___________________________________

PS: Have you prayed your Rosary today?