IN THE NAME OF THE FATHER, AND OF THE SON, AND OF THE HOLY SPIRIT. AMEN.
(The Devotion to the Sacred Heart of Jesus was started and made popular by St. Margaret Mary Alacoque. She was inspired by visions of Jesus to spread this devotion).
Hymn
A message from the Sacred Heart;
What may its message be?
"My child, my child, give Me your heart
My Heart has bled for thee."
This is the message Jesus sends
To my poor heart today,
And eager from His Throne He bends
To hear what I shall say.
A message to the Sacred Heart;
Oh, bear it back with speed;
"Come, Jesus, reign within my heart
Thy Heart is all I need."
Thus, Lord, I'll pray until I share
That home whose joy Thou art;
No message, dearest Jesus, there,
For heart will speak to heart..
OPENING PRAYER
Heart of Jesus, source of mercy and love, do not let your sufferings be despised by us. Let us not forget the tears and blood you shed for us. Forgive us! Make us mortify what is malicious in us to live in your love.
O God, who in the Heart of your Son, wounded by our sins, in the infinite concessions of love treasures, grant that we offer a fair reparation, consecrating ourselves to the Sacred Heart all our lives. Grant this through Christ, our Lord. Amen
SCRIPTURAL READING: Ephesians 2:4-7
God is rich in mercy; because of his great love for us, He brought us to life with Christ when we were dead in sin. By this favour, you were saved. Both with and in Christ Jesus he raised us up and gave us a place in the heavens, that in the ages to come he might display the great wealth of his favor, manifested by his kindness to us in Christ Jesus.
The Word of the Lord…
REFLECTION ON THE LIFE OF ST. MARGARET MARY ALACOQUE (Apostle of the Sacred Heart):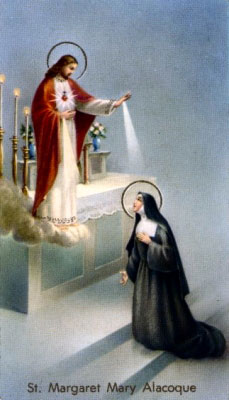 CONCLUSION:
I've left a lot out of this story, mostly pages of Margaret Mary describing her own vileness and the horrible things she did to her body before she was reined in. I really struggled with reading all of it. I couldn't reconcile the beauty of the Sacred Heart with her tragic and disturbing story. Finally, it occurred to me that maybe that was exactly what God wanted.
When we look at the Sacred Heart, we see God's endless mercy and love. He uses it to tell us that no sacrifice we make can come close to his, and yet he's giving us His Heart. The Sacred Heart is a school of love and mercy.
Although devotion to the Sacred Heart existed as early as the twelfth century, Jesus waited for a particular, poor, abused little girl in France to spread the devotion. He showed us that no one, no matter how desolate or abused, is beyond his love. Anyone can be his messenger. We just have to put our heads on his heart and let him tell us about his love.
ACT OF CONSECRATION AND REPARATION TO THE MOST SACRED HEART OF JESUS
Most Sacred Heart of Jesus! I adore you; I offer to you all that I am and all that I possess; I consecrate to you my soul with its faculties, my body with all its senses, my heart with all its affections, desiring in all things to honor, love, and glorify you; in thanksgiving for the numberless benefits that I have received from you, especially in the Holy Eucharist; in atonement for my own sins as well as in reparation for all the offenses that are committed against you in the sacrament of your love, and, finally, in humble supplication, that I may henceforth be faithful to you, that I may please you in thought, word, and deed, that I may suffer in patience and in perfect resignation to your holy will, that I may become like to you in meekness and humility, that I may persevere in your love and your grace to the end of my life, and that I may praise you and bless you with the saints and angels in eternity.
We beseech you, also, O good Jesus, by your Sacred Heart, overflowing with sweetness and mercy, to bless our Holy Father, the Pope, and our Holy Mother, the Church; to take under your special protection this congregation [my parish], our homes, our country, our rulers, our legislators, our bishops, our priests, and all Religious Orders. We recommend to you all our concerns, our friends, relatives, benefactors, and all those who have asked us to pray for them; those who are sick and those who are dying, and all who are under any affliction. Cast an eye of compassion on obstinate sinners, [the mistaken], and unbelievers. Give eternal rest to the faithful departed. Bless in particular the apostolic labours of those who are engaged in giving missions and retreats, in propagating the Faith in [mission] lands, in spreading your kingdom on earth, and in fostering devotion to Your Most Sacred Heart and to the Most Holy Sacrament of the Altar. Amen.
CONCLUDING PRAYER
I. O my Jesus, you have said: 'Truly I say to you, ask and you will receive, seek and you will find, knock and it will be opened to you.' Behold I knock, I seek and ask for the grace of…… (here, name your request) Our Father… . Hail Mary… Glory Be to the Father…
Sacred Heart of Jesus, I place all my trust in you.
II. O my Jesus, you have said: 'Truly I say to you, if you ask anything of the Father in my name, he will give it to you.' Behold, in your name, I ask the Father for the grace of…… (here, name your request) Our Father… Hail Mary… Glory Be To the Father…
Sacred Heart of Jesus, I place all my trust in you.
III. O my Jesus, you have said: 'Truly I say to you, heaven and earth will pass away but my words will not pass away.' Encouraged by your infallible words I now ask for the grace of… . . (here name your request) Our Father… . Hail Mary… Glory Be to the Father…
Sacred Heart of Jesus, I place all my trust in you.
O Sacred Heart of Jesus, for whom it is impossible not to have compassion on the afflicted, have pity on us miserable sinners and grant us the grace which we ask of you, through the Sorrowful and Immaculate Heart of Mary, your tender Mother and ours.
Jesus, meek and humble of Heart, make our hearts like unto Yours (x3)
Immaculate heart of Mary, Pray for us!!!
Hail Holy Queen…
St. Joseph, Pray for us!
 St. Margaret Mary Alacoque, pray for us!
Blessing+
Through the intercession of St. Margaret Mary Alacoque, May Almighty God bless and keep us in the + Name of the Father, and of the Son, and of the Holy Spirit. Amen.
Sources:
The Letters of St. Margaret Mary of Alacoque, Tan Books, 1954
The Devotion to the Sacred Heart of Jesus by John Croiset, Tan Books, 1988
___________________________________
PS: Have you prayed your Rosary today?