IN THE NAME OF THE FATHER, AND OF THE SON, AND OF THE HOLY SPIRIT. AMEN.
(The Devotion to the Sacred Heart of Jesus was started and made popular by St. Margaret Mary Alacoque. She was inspired by visions of Jesus to spread this devotion).
Hymn
O sacred heart of Jesus, I place my trust in thee,
Whatever may befall me, Lord, though dark the hour may be;
In all my woes, in all my joys, though nought but grief I see,
O sacred heart of Jesus, I place my trust in thee.
When those I love have passed away and I am sore distressed,
O sacred heart of Jesus, I fly to thee for rest.
And when the cross is heavy, my confidence shall be
Unshaken as I cry, dear Lord, "I place my trust in thee."
This is my one sweet prayer, dear Lord, my faith, my trust, my love,
But most of all in that last hour, when death points up above,
O sweet Saviour, may thy face smile on my soul all free.
Oh may I cry with rapturous love, "I've placed my trust in thee."
OPENING PRAYER
Merciful Heart of Jesus, even when we were in misfortune, Your goodness enlightened us and offered us forgiveness. Grant us the grace to mourn our sins and desire Your love. Do not fail, dear Jesus, to have pity on us. We ask that Your mercy may communicate to us the grace of never being ungrateful to you.
O God, who in the Heart of your Son, wounded by our sins, in the infinite concessions of love treasures, grant that we offer a fair reparation, consecrating ourselves to the Sacred Heart all our lives. Grant this through Christ, our Lord. Amen
SCRIPTURAL READING: 1 John 4:7-9
Beloved, let us love one another because love is from God; everyone who loves is born of God and knows God. Whoever does not love does not know God, because God is love. God's love was revealed among us in this way: God sent his only Son into the world so that we might live through him.
The Word of the Lord…
REFLECTION ON THE LIFE OF ST. MARGARET MARY ALACOQUE (Apostle of the Sacred Heart):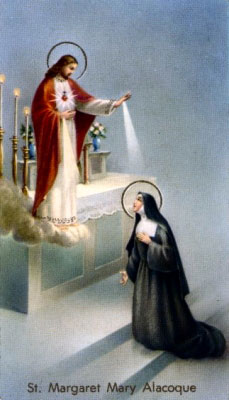 Part 5 (Her visionary experiences and challenges from the religious community)
These visions showed her the "form of the devotion, the chief features being reception of Holy Communion on the first Friday of each month, Eucharistic adoration during a 'Holy hour' on Thursdays, and the celebration of the Feast of the Sacred Heart." The Lord Jesus requested His love be made evident through her. In her vision, she was instructed to spend an hour every Thursday night meditating on Jesus' Agony in the Garden of Gethsemane, a practice, known as "The Holy Hour," that later became widespread.
In December 1673, Jesus appeared to Margaret Mary again, and allowed her to rest her head on His heart. His human heart was to be the symbol of His divine-human love. He revealed to her the wonders of His love. He explained to her that he wished to make these wonders known to all the world, and that He chose her for His work.
Margaret Mary convinced her superior, Mother de Saumaise, her visions were authentic. However, she struggled with convincing others of the validity of her apparitions, even those in her own community. Margaret Mary was accused of being possessed. The sisters threw copious amounts of Holy Water over her to try to cure her. She was also sent to speak to many theologians, who openly doubted her and declared her visions delusions, and suggested that she eat better. Even parents of children she instructed began calling her an imposter.
ACT OF CONSECRATION AND REPARATION TO THE MOST SACRED HEART OF JESUS
Most Sacred Heart of Jesus! I adore you; I offer to you all that I am and all that I possess; I consecrate to you my soul with its faculties, my body with all its senses, my heart with all its affections, desiring in all things to honor, love, and glorify you; in thanksgiving for the numberless benefits that I have received from you, especially in the Holy Eucharist; in atonement for my own sins as well as in reparation for all the offenses that are committed against you in the sacrament of your love, and, finally, in humble supplication, that I may henceforth be faithful to you, that I may please you in thought, word, and deed, that I may suffer in patience and in perfect resignation to your holy will, that I may become like to you in meekness and humility, that I may persevere in your love and your grace to the end of my life, and that I may praise you and bless you with the saints and angels in eternity.
We beseech you, also, O good Jesus, by your Sacred Heart, overflowing with sweetness and mercy, to bless our Holy Father, the Pope, and our Holy Mother, the Church; to take under your special protection this congregation [my parish], our homes, our country, our rulers, our legislators, our bishops, our priests, and all Religious Orders. We recommend to you all our concerns, our friends, relatives, benefactors, and all those who have asked us to pray for them; those who are sick and those who are dying, and all who are under any affliction. Cast an eye of compassion on obstinate sinners, [the mistaken], and unbelievers. Give eternal rest to the faithful departed. Bless in particular the apostolic labours of those who are engaged in giving missions and retreats, in propagating the Faith in [mission] lands, in spreading your kingdom on earth, and in fostering devotion to Your Most Sacred Heart and to the Most Holy Sacrament of the Altar. Amen.
CONCLUDING PRAYER
I. O my Jesus, you have said: 'Truly I say to you, ask and you will receive, seek and you will find, knock and it will be opened to you.' Behold I knock, I seek and ask for the grace of…… (here, name your request) Our Father… . Hail Mary… Glory Be to the Father…
Sacred Heart of Jesus, I place all my trust in you.
II. O my Jesus, you have said: 'Truly I say to you, if you ask anything of the Father in my name, he will give it to you.' Behold, in your name, I ask the Father for the grace of…… (here, name your request) Our Father… Hail Mary… Glory Be To the Father…
Sacred Heart of Jesus, I place all my trust in you.
III. O my Jesus, you have said: 'Truly I say to you, heaven and earth will pass away but my words will not pass away.' Encouraged by your infallible words I now ask for the grace of… . . (here name your request) Our Father… . Hail Mary… Glory Be to the Father…
Sacred Heart of Jesus, I place all my trust in you.
O Sacred Heart of Jesus, for whom it is impossible not to have compassion on the afflicted, have pity on us miserable sinners and grant us the grace which we ask of you, through the Sorrowful and Immaculate Heart of Mary, your tender Mother and ours.
Jesus, meek and humble of Heart, make our hearts like unto Yours (x3)
Immaculate heart of Mary, Pray for us!!!
Hail Holy Queen…
St. Joseph, Pray for us!
 St. Margaret Mary Alacoque, pray for us!
Blessing+
Through the intercession of St. Margaret Mary Alacoque, May Almighty God bless and keep us in the + Name of the Father, and of the Son, and of the Holy Spirit. Amen.
Sources:
The Letters of St. Margaret Mary of Alacoque, Tan Books, 1954
The Devotion to the Sacred Heart of Jesus by John Croiset, Tan Books, 1988
___________________________________
PS: Have you prayed your Rosary today?