DIFFERENCE
BETWEEN DIOCESAN PRIESTS, RELIGIOUS PRIESTS & SOCIETIES OF APOSTOLIC LIFE; RELIGIOUS
SISTERS; BISHOPS & ARCHBISHOPS; ARCHDIOCESE AND DIOCESE… ARE YOU AWARE OF
THESE?
In the course
of the week, I received these questions above from different persons. I decided
to treat them together because one is linked to the other in a way.
To begin
with, in many ways all Catholic priests are the same. Each priest has gone
through many years (usually 9-11yrs) of education and preparation at a
seminary/institute before his ordination. All priests are ordained to preach
the Gospel and serve God's people in the person of Christ. Most importantly,
they administer the sacraments… The differences are mostly seen by
contrasting the vows made by religious priests and the promises made by
diocesan priests.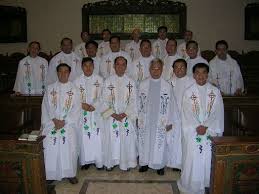 DIOCESAN PRIEST
A diocesan priest makes promises at ordination:
1. To obey his bishop (Obedience)
2. To live a celibate life (Celibacy)
A diocesan
priest lives and works in a certain geographical area – the Archdiocese or
Diocese. Most often, a diocesan priest is assigned to a parish by the bishop,
and he lives and works in that area. He does not make a promise of poverty, and
usually owns a car and other possessions in order to do his work and live
independently in simplicity. His main work is preaching the Gospel, offering
Mass, anointing the sick and dying, baptizing, celebrating marriages, burying
the dead, and consoling those who need his help. He is focused on the needs of
the people of his parish…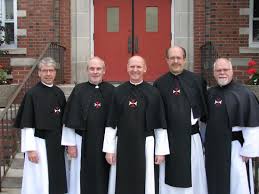 RELIGIOUS PRIESTS
Religious priests are not necessarily more spiritual than diocesan priests. The
word refers in this case to the form of life these priests live. All men and
women who make public vows in a religious order are called religious. It means
that by their vows of poverty, celibate chastity, and obedience, their lives
are oriented in a special way to the virtue of religion so that all they do
becomes a continual act of the worship of God a religious priest will have made
three solemn vows, before he is ordained, to live:
1. Poverty
2. Chastity
3. Obedience
The vow of
poverty does not mean "wretchedness" or not having anything. This
means that the person cannot acquire or dispose of anything except as their
superior decides; however, they share the community goods in common. Chastity
means that they cannot marry and must, course, observe chastity as celibates.
Obedience means that they must submit to the orders of their superiors as to
their occupation, their place of living, their schedule and obey the rules and
regulations of their order or congregation.
These three
ways of living are called the Evangelical Counsels because they are recommended
to Christians by our Lord as part of His Gospel. Interestingly, the Catechism
teaches that every Christian is called to live the Evangelical Counsels
according to his state of life, though religious priests live them in a "more
intimate" way (CCC #916).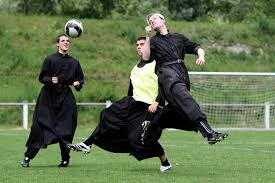 One very
striking feature of a religious is COMMUNITY LIFE. Religious normally live
together as a community; they follow a pre-determined schedule, eat together,
pray together, recreate together, and do many things in common.
At the
request of the bishops, many religious priests do parish work, either out of
their institution or in a parish that has been entrusted to their order or
congregation. In this work they remain subject to their rule and to their
superiors, except as to the parish ministry, where they follow the directives
of the bishop. In the aspect of invitations, the religious priests or
brother/sister is not always master of his/her schedule and may have to ask
permission from the superior.

More importantly, we must point out that nuns/religious sisters, lay brothers
are also religious and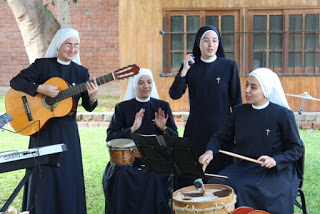 have the same vows and the same situation applies to
them (under the religious life). Examples of religious Congregations include:
Franciscans (Capuchins, OFM), Redemptorists (CSs.R), Order of Preachers (O.P.;
Dominicans), Benedictines (OSB), Oblates of St. Joseph (OSJ), among others…
Most times, you can identify them with their kind of habits (attires).
In between
the line of Religious and Diocesan priests, there lies "THE SOCIETY OF
APOSTOLIC LIFE". Generally, Priests from Societies of Apostolic life are
secular. They include: Missionary
Society of St. Paul (MSP), Society of St. Patrick, Society of Jesus (SJ;
Jesuits), Society Missionary of Africa (SMA). However, they do have some kind
of profession of oaths and rule, but they are not consecrated religious.
Consecrated religious belong to Institutes of Consecrated Life. As to habits
and the title Brother or Sister, that really depends on the statutes of the
society.
It is good
for Catholics to understand these distinctions because religious priests and
brothers are often embarrassed by expensive gifts they receive. Living a
community life and subject to the vow of poverty, the gifts they receive are
subject to the decision of their superiors. They may decide that the gift must
be shared or given to a person who needs it more. In case of doubt, one should
consult the superior.
Is one
"better" or "holier" than another? Absolutely No. A vocation director is
familiar with both types of priesthood and can be very helpful in guiding a man
as he discerns what life God is calling him to.

On the issue of the difference between vows of Chastity and celibacy, they
almost mean the same thing, since both are geared to the same goals.. At times
they are often used interchangeably. Moreover, the Canon Law urges Clerics to
live in continence… in other words; Clerics are obliged to observe perfect
and perpetual continence for the sake of the Kingdom of Heaven and are
therefore bound to celibacy. While Chastity also requires purity of mind,
heart, and body and a call to love for the sake of the Kingdom of heaven…
Talking about the difference between an archdiocese and a diocese; we
come to understand that an archdiocese is a (big) diocese that serves as the
head of a Metropolitan Province or Metropolia which encompasses several other
dioceses, called suffragan dioceses. These dioceses together form a type of
region, much like a large metropolitan area,
with the archdiocese at the head. For
example, the archbishop of Lagos (His Grace, Most Rev. Dr. Martins Adewale) is
metropolitan over the dioceses and bishops of Abeokuta and Ijebu-Ode… Hence,
if he gets to retirement age, a bishop from either Abeokuta Diocese or Ijebu-Ode
may possibly succeed him as the archbishop of Lagos. This is because Ijebu-Ode
and Abeokuta dioceses fall under the metropolitan section/administration of
Lagos… The case is the same with others states in Nigeria (If you observe
carefully).
In Eastern rite catholic church, the archdiocese often exercises real authority
over the bishops in his metropolia.
In the Roman Catholic dioceses (in some situations) however, this leadership
role is merely honorary and carries few or no real privileges.
(SEE ALSO: IF PARENTS ARE NOT MARRIED IN THE CHURCH, CAN THEIR CHILDREN BE BAPTIZED IN THE CATHOLIC CHURCH?)
As a follow up, an archbishop is the head of an archdiocese, and a bishop is
the head of a diocese (or an auxiliary to a diocese or archdiocese). An
archbishop is often called a metropolitan, emphasizing his leadership over the
metropolitan province. Bishops can also acquire the title archbishop by virtue
of their office (such as a papal nuncio, or ambassador from the Holy See) or as
a personal, honorary title.
Finally, let us continue to pray for Vocations and ask God to bless those that have already embarked on this clarion call.
I hope this
is well understood…