BEWARE:
FALSE NEWS ABOUT THE DEATH OF POPE
BENEDICT XVI (FORMER POPE) RENTS THE SOCIAL NETWORKS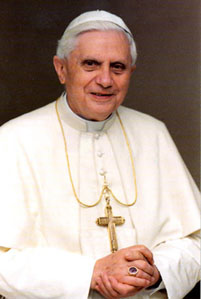 Recently, false news
about the death of Pope Benedict XVI (former Pope) surfaced by a false Cardinal Parolin profile, filled the social
networks (facebook and twitter). The architect behind this is an alleged Italian journalist who impersonates the personality of
people and is known to announce deaths. He recently announced
the false death of Benedict XVI for the second time. In March 2013, he published the same news on behalf of Cardinal Jean-Louis Tauran.
He also announced the death of Fidel Castro, JK Rowling and
Pedro Almodóvar. Below was his exact post on twitter:
"At about 11 a.m. ET on Monday (May 16, 2016),
our beloved pope Pope Benedict XVI passed away. Pope Benedict XVI was born on
April 16, 1927 in Marktl. He will be missed but not forgotten. Please show your
sympathy and condolences by commenting on and liking this page."
Immediately, hundreds of
fans immediately started writing their messages of condolence on the Facebook
page, expressing their sadness that the talented 89-year-old pope was dead. However, some skeptical
persons, likewise myself, dismissed the post and rendered it as false.
Yesterday, Tuesday (May 17) the pope's reps officially confirmed that Pope
Benedict XVI is not dead. "He's still
alive and well, stop believing what you see on the Internet," they
said.
Some fans have expressed anger at the fake
report saying it was reckless, distressing and hurtful to fans of the much
loved pope. Others say this shows the extreme popularity of the Italian
journalist across the globe.
Dear friends, in any case, to recognize whether a story
about the Pope is authentic, it is important to remember two points:
1. First, that no cardinal would announce the death of a Pope on Twitter.
2. And secondly, that
if the news were true, it would be immediately
confirmed by the Vatican press room.
I was triggered to
write this post because someone asked me just now via inbox to confirm the
news.
May God have mercy on
that journalist…
Good day friends!